We all love to get our nails done right?. We spent hours at the salon making it pretty. And if you are someone who does this often you might know the pain when one of those nails breaks off. So what can you do to prevent this you may ask? A nail strengthener will be your best friend from today onwards. So let's find out what exactly a nail strengthener does for your nails!
What is a Nail Strengthener?
Our nails are made up of a protein called keratin which makes them more durable strong and tough. When there is a decrease in this protein, then our nails and hair become fragile. And that is the main reason why our nails break off. Nail strengtheners play an integral role in making our nails healthy.
It works by nourishing the nail plate and making it stronger. It offers protection to nails thus preventing them from breakage(1). A nail strengthener should be used consistently to repair damaged nails. You will be able to see a difference in your nails within 1-2 weeks of usage. Now let's take a look at some of the best options out there that you can try to strengthen your nails.
10 Best Nail Strengtheners
Here are the top 10 best nail strengtheners that you can try out.
Hard As Hoof Nail Stregthener
This is currently one of the best-selling nail strengthening creams available on amazon. This product has over 40,000 reviews on Amazon and is the hot seller at the moment. It is made in the US and is cruelty-free.
Product Details
Hard as hood nail strengthening cream has a proven formula that will strengthen and moisturize your cuticles.
Prevents splits, chips, and cracks in even the most severe cases.
It conditions the cuticles and nails with calcium, vitamin, minerals, and emollients.
It helps to restore and fix damage caused by acrylic nails.
Gives nails high endurance and long-lasting strength.
Helps fragile, brittle nails to grow into new lengths
Main Ingredients: Vitamin A, C, D, E, Minerals, Jojoba seed oil, Calcium, beeswax, and many more moisturizing ingredients
Pros
Great consistency, glides on smooth.
Has many beneficial and natural ingredients.
Great moisturizer.
Prevents splits, chips, and cracks on nails.
It is cruelty-free.
Cons
Some may be allergic to beeswax.
The results vary for each person.
Barielle No Bite Pro Growth
If you are someone who has the habit of biting your nails then this one is for you. This is an odorless and colorless treatment that can be used on your nails to prevent you from biting. When trying to bite nails it will taste bitter which will help you to stop the habit.
Product Details
This is an invisible orderless treatment that is filled with an intense bitter taste to stop you from biting your nails and cuticles.
A non-glossy formulation that hydrates and does not contain nitrocellulose.
Blended with active pro-growth ingredients that make your nails healthy and strong.
This can be used by people of all ages even children.
It is also Dibutyl-Phthalate Free, Toluene Free, and Formaldehyde Free.
Main Ingredients: Denatonium Benzoate, Ethyl acetate, Butyl acetate, Adipic acid, Helianthus annuus, Horse chestnut, and many more.
Pros
This is a non-glossy formulation.
Hydrates nails.
Can be even used by children.
Prevents the biting of nails.
Cons
The bitter taste might be overpowering for some.
Results vary from person to person.
O.P.I Natural Nail Strengthener
This nail treatment comes in different shades other than clear. The powerful ingredients in this star strengthening treatment will give you firmer nails. Apply two coats of envy nail strengthening treatment and add on an extra coat every day. Remove all the products after one week and continue the same process until you get healthy-looking nails. O.P.I is considered one of the best nail strengthener.
Product Details
Healthier-looking nails.
Moisturizes nails.
Gets rid of weak and damaged nails.
Nail envy is available in different shades to add a tint of color while strengthening them at the same time.
Prevents discoloration and yellowing of nails from nail polish application.
Main Ingredients: Ethyl Acetate, Butyl Acetate, Nitrocellulose, Propyl Acetate, Camphor, Diacetone Alcohol, and many more.
Pros
Comes in many different shades
Helps with discoloration and yellowish nails
Moisturizes the nails to make them stronger.
Cons
Can be irritating for some.
People with thin nails may feel a slight burning sensation on application.
First Aid Kiss Nail Strengthener
This is a four-week treatment that makes your nails strong and free from breakage. This product has over 5000 positive reviews on Amazon and is now a cult favorite. Wear a coat of this nail strengthener for one week and remove it with acetone on the 7th day. Then continue the same for the second week also.
The third and fourth week is different as you have to apply it for alternate days. And you can see your nails magically transform.
Product Details
Makes nails stronger.
Helps with peeling and cracked nails.
Good for nails that are weak and thin.
It is a four-week treatment.
Main Ingredients: Vitamin E, Ethyl acetate, Butyl acetate, Nitrocellulose, Adipic acid, and many more.
Pros
100% vegan.
Cruelty-free.
Approved by PeTA.
Made in the U.S.A.
This product does not contain Toluene, Formaldehyde, Formaldehyde Resin, Camphor, Dibutyl Phthalate (DBP), TPHP, or Xylene.
Non-toxic.
Affordable.
Cons
The results may vary from person to person.
Some may be allergic to the fragrance in the nail strengthener.
Duri Rejuvacote 1
Rejuvacote 1 nail strengthening formula was formulated by an in-house chemist to helps the clients with their nail problems. The tag line of this nail strengthener is " from dying nails to nails to die for".
Product Details
It creates a protective layer over the nails faster nail growth, works on natural nails, enhances flexibility, pliability, and stimulates nail growth.
Contains wheat protein, hydrolyzed soy protein, keratin, and calcium to maintain healthy nail growth.
Seals in the natural moisture, collagen, and fatty acids that are naturally produced by your nail plate.
Main Ingredients: Ethyl Acetate, butyl acetate, nitrocellulose, toluene sulfonamide/formaldehyde resin, isopropyl alcohol, n-butyl alcohol, trimethyl penthanyl, isobutyrate, camphor, hydrolyzed wheat protein, hydrolyzed keratin, hydrolyzed soy protein, calcium pantothenate.
Pros
Promotes growth.
Super potent.
Calcium and protein-enriched.
Nail strengthening.
Prevents splitting and breaking.
Made in the U.S
Cons
Results may take time.
May contain allergens.
Zoya Naked Manicure Women's Manicure Set
This is a simple, effective, and best nail strengthener that provides many healthier-looking nails and it is therapeutic with long-term benefits for strong nails.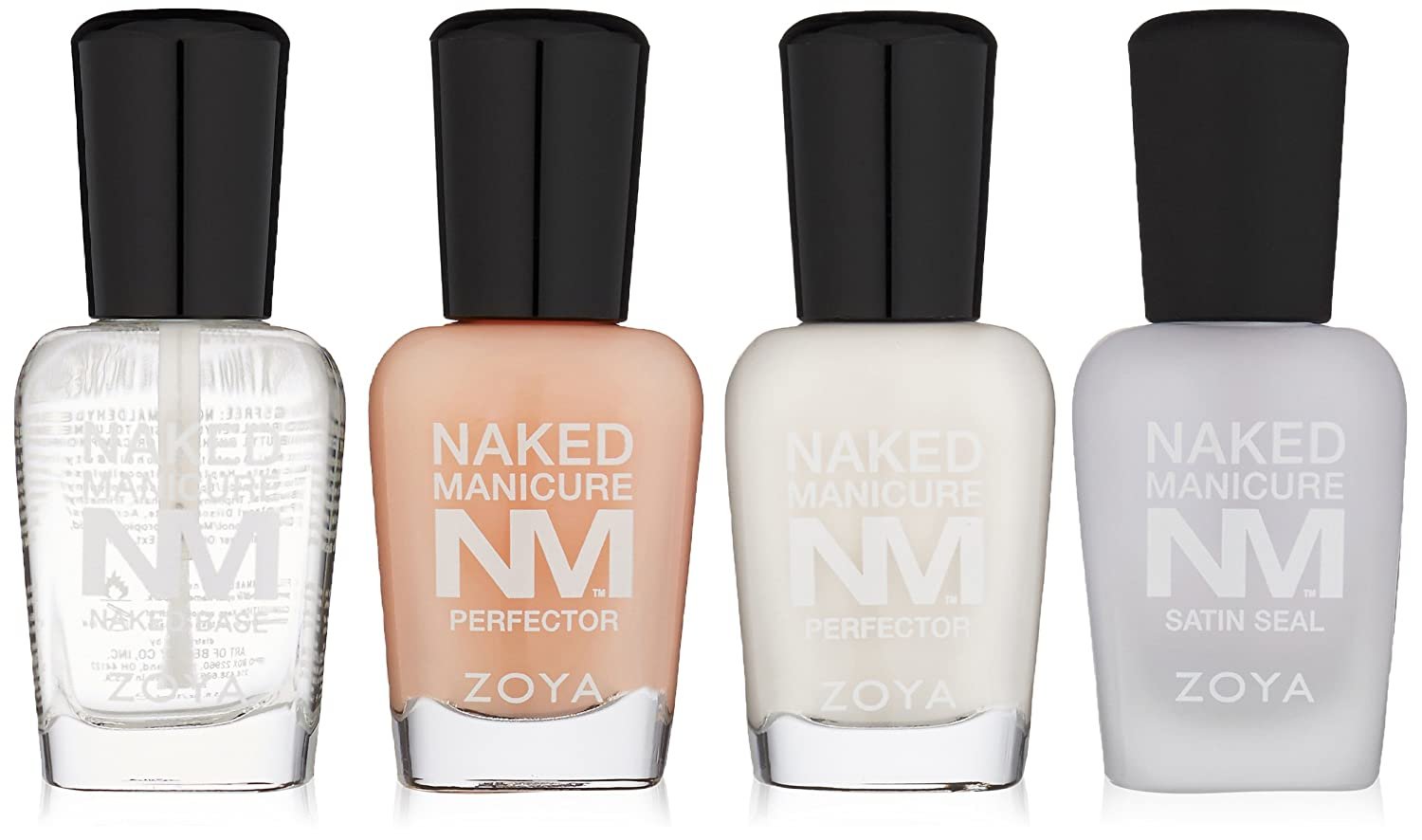 Product Details
It treats and corrects damage caused by pitting, fraying free edges, gel damage, discoloration, caused by polish or aging.
Improves flexibility and decreases brittleness.
Contains red algae that improve microcirculation.
Fills in pitting and cracking.
Main ingredients: B5/panthenol, vitamin E, red algae, Gingo, sulfur amino acid/ protein complex, ethyl acetate, butyl acetate, sunflower oil, and much more.
Pros
Neutralizes discoloration.
Refine nail plate surface.
Smooth ridges.
Supports cellular renewal.
Improves oxygenation.
Improves flexibility and strength.
Increase hydration and resilience.
Cons
More expensive than other nail strengthening treatments.
The results may vary from person to person.
Butter London Horsepower Nail Rescue Base Coat
If you are someone who always goes for acrylic nails or nail polish in general then you will be using a base coat to set everything. Replace your normal basecoat with this one with many benefits to get much stronger nails and cuticles.
Product Details
Works as a base coat that strengthens nails.
Strengthens fragile nails.
Prevents nail breakage.
Restores and repairs nails.
Main Ingredients: Horsetail extract, Biotin, Vitamin B, calcium, ethyl acetate, butyl acetate, Adipic Acid/Neopentyl Glycol/Trimellitic Anhydride Copolymer, Isopropyl Alcohol, Trimethylpentanediyl Dibenzoate, Acetyl Tributyl Citrate, Sucrose Acetate Isobutyrate.
Pros
Strengthens and fortifies weak nails.
Prevents nail breakage.
8-free: butter London does not add formaldehyde, formaldehyde resin, DBP, toluene, camphor, ethyl tosylamide, xylene, to TPHP to any of their formulations.
Cons
The results may vary from person to person.
Essie Treat Love And Color
This clinically tested formula will give you better nails within one week of using it. This is a perfect nail polish that reduces peeling by 60% and breakage by 35% in just one week. It comes in about 32 different shades so you can flaunt your beautiful nails while protecting them.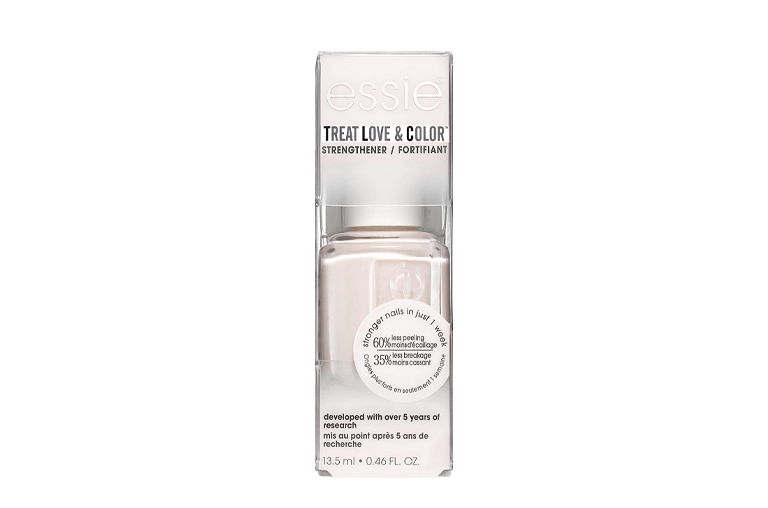 Product Details
You can get stronger nails in just one week.
60% less peeling and 35% less breakage.
Infused with collagen and camellia extract.
Instant glow and finish.
Main Ingredients: Butyl acetate, ethyl acetate, nitrocellulose, isopropyl alcohol, ethyl tosylamide, dimethyl sulfone, adipic acid, collagen, and camellia extract, etc.
Pros
Stronger nails in just one week.
Clinically tested.
Strength and color.
No base coat is required, world best when applied directly onto nails.
The new vegan formula does not contain any animal-derived ingredients.
Cons
Maybe a little too strong for some.
Results may vary from person to person.
Sally Hansen Nail Rehab Strengthener
Using Sally Hansen's nail rehab strengthener you get visibly stronger nails. It instantly hides imperfections. Sally Hansen strengthened helps to protect nails from breakage, peeling, and tearing. It helps to strengthen weak, ravaged nails. The price of this product is $10.99.
Product Details
An intense treatment for severely dehydrated nails.
It helps to hide imperfections and get the perfect manicure experience.
Helps to protect against the tearing and peeling of nails.
The formulation contains jasmine, rose, and vitamin E.
Helps to moisturize and reinforce nails.
Main Ingredients: Butyl acetate, ethyl acetate, nitrocellulose, adipic acid, isopropyl alcohol, rosa alba flower extract, vitamin E, titanium dioxide, jasmine flower extract, calcium pantothenate, silica, etc.
Pros
It strengthens the nails.
Instantly hides imperfections.
The best alternative for damaging nail polishes.
Cons
Can be irritating for some.
The results vary.
Dr.'s REMEDY Enriched Nail Care Hydration Moisture Treatment
This is a clear coat treatment to get rid of dry and brittle nails. It is a natural nail conditioner enriched with biotin which has high moisturizing capabilities. Nail lovers consider it as one of the best nail strengtheners.
Product Details
A formula that is free of formaldehyde, formaldehyde resin, toluene, phthalates, and parabens.
The vitamin C in the formulation helps to strengthen the nails and get rid of yellowish nails.
It has anti-fungal and antibacterial properties.
Helps to increase the shine on nails.
No hard chemicals that will damage your nails.
Main Ingredients: Tea tree oil, garlic bulb extract, lavender, vitamin C, wheat protein, biotin, and many more beneficial ingredients.
Pros
The formulation is free of harmful chemicals.
Free of animal products.
Moisturizes the nails.
The nail treatment is vegan.
It is UV protected.
Breathable.
Cons
The product consistency is a bit on the thicker side.
Results may vary from person to person.
May cause allergy in some.
Final Verdict
Nail strengtheners are a great way to get rid of brittle, damaged, and peeling nails. Each of the products mentioned above has its benefits. Be sure to check out the products in detail before purchase to know which one suits you the most.
Be sure to check the ingredient list before purchasing as there may be ingredients that might cause allergic reactions in some. Always make sure to buy the best nail strengthener. Check if the product is clinically tested and has proteins and biotin necessary for better nail health.
Frequently Asked Questions