Fiberglass nails have been around for decades. Despite this, they weren't quite as popular as their acrylic nails and shellac relatives until a beauty trend went viral on social media.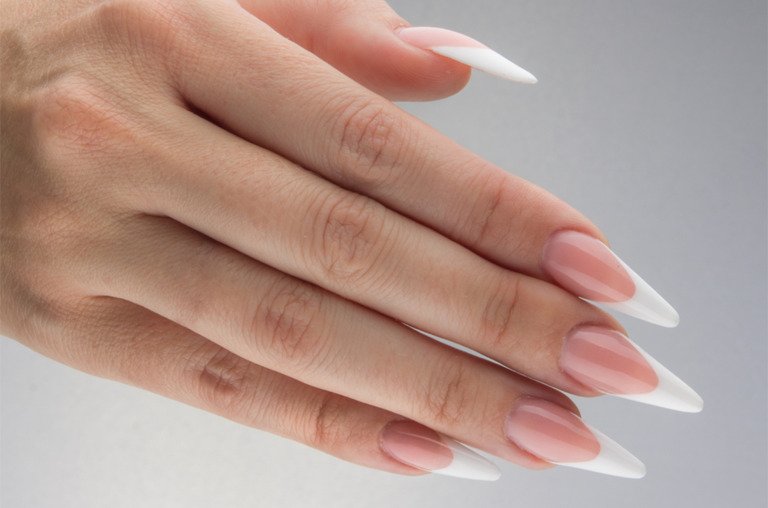 The technique of using fiberglass nails saw a resurgence on Instagram recently, which spiraled it to fame. If you want to jump into the trend but are not sure what fiberglass nails are all about, then this guide has everything covered that you need to know.
What Are Fiberglass Nails?
---
Want to add temporary length to your nails? Fiberglass nails could do the trick. Also referred to as silk wraps synonymously, fiberglass nails involve the use of thin, flexible products made from fabrics, fiberglass, or silk. These are just thin wraps applied to the nails for extra reinforcement.
These can be used as they are and secured with paint resin glue along the edge of the nail. These can also be embedded within acrylic nails for reinforcement and extra strength. The major difference between silk wraps and fiberglass nails is that the difference lies between the two in the kind of fabric used.
Fiberglass is mildly stronger in comparison to silk wraps. The process of application involves the use of cloth-like material with paint resin glue along the edge of the nail. Once the glue hardens the fabric, you can shape the extension conveniently with the use of a nail drill or an emery board.
Difference Between Fiberglass Nails And Acrylic Nails
---
Wondering what is the difference between fiberglass vs. acrylic nails? Fiberglass nails are much thinner traditionally than acrylic nails and look natural. Despite the aesthetics, they are less durable in comparison to other nail enhancements.
On the other hand, acrylic nails are rigid and thick, while fiberglass nails and wraps are flexible and can break down easily in water over time. This is the reason why fiberglass nails are not suitable for those who need to wash their hands frequently on a regular basis. However, wraps and fiberglass are less damaging to the nails than their counterparts.
Pros And Cons Of Fiberglass Nails
---
Fiberglass nails have both pros and cons. Apart from looking thinner, these are much more natural-looking and also less damaging. Unlike acrylic nails that have a strong smell, these nails are odorless and unlikely to result in allergies or sensitivities.
Moreover, this is not suitable for everyone either. You need to have a healthy nail bed and enamel for ensuring a smoother application. If you have the habit of biting your nails or are unable to grow your nails or have damaged nails, then you are not a suitable candidate for getting fiberglass nails extension.
If you are looking for a manicure that will last for up to three weeks, then fiberglass nails are not the best option for you. Because of the fine texture of the fabric, this enhancement is not as durable as gel extensions or acrylic powder. If you are seeking extra length that looks as natural as possible, then you need to opt for fiberglass nails.
Pros
Have a natural appearance
Result in minimal or no damage to natural nails
Can be easily removed
Are fairly durable under most circumstances
Have less odor than the application of acrylics
Touchups are quick and easy in case of a broken nail
Cons
Can come off easily if you have the habit of submerging your hands in water frequently
Not as durable as gel or acrylic nails
Not suitable for people who have weak or damaged nails
The process is quite time-consuming and complicated, making it unsuitable for home application
More expensive than other manicure options available these days
You cannot create an arch with fiberglass nail wraps
How To Apply And Remove Fiberglass Nails?
---
Wondering how to do this at home? You can purchase a starter kit and follow this step-by-step guide to apply fiberglass nails at home.
Step 1
Prepare the nails
Prepare the nail by cleaning the nail polish and removing other contaminants with a nail polish remover. Finish by buffing the nails lightly with an emery board. Make sure not to buff too much.
Step 2
Getting started
Once you have prepped your nails, you can apply a base coat and place the fiberglass strands on your nail that will make up the extension.
Make sure to apply the strands immediately and don't wait for the base coat to dry else, the final outcome would not be that great.
Step 3
Cut the fiberglass
You need to then cut the fiberglass to the length desire. Seal the fiber with hard gel
Step 4
Shape the nails
You can cure your fingernails for 30-60 seconds beneath a LED lamp if you feel like it. Once the gel hardens, you can utilize a pinching clip to ensure that the fiberglass and the gel retain their shape.
Step 5
Set the nails
Remove the clip once you are happy with the curvature and shape of the nail. This will take some time if you don't do your nails regularly.
Step 6
Sand
Dip a cotton ball in rubbing alcohol and clean the surface. Now, sand or buff the nails to ensure an even surface. This will impart your nails an even and natural feel and appearance.
Step 7
Impart a finishing touch
You can use a topcoat on the surface for a cleaner look. If you prefer a natural look, then you can skip this.
Removal Process
This nail enhancement method requires professional touchups every two to three weeks. These can be removed the same way as acrylics by soaking in acetone.
Though the application process results in less wear and tear to your natural nail in comparison to other tactics, fiberglass cloth is the key to keeping your tips in good condition. The best way to remove fiberglass is to soak it off in acetone and then buff off the melted fabric.
Are They Safe?
---
All nail enhancements pose the risk of weakening and damaging your natural nail. This is applicable to here as well. If done in an appropriate way, it can be totally safe. There is very little damage to the nail plate, unlike other methods while using fiberglass. This is because only fabric and resin are used in the process.
Excessive water exposure can also result in your manicure chipping faster or even grow mold. Hence, you need to prevent much water from getting trapped between the nail and the fiberglass. Be cautious if you frequently wash your hands or spend a lot of time in the water.
As this technique is still not common in salons, it is important that you find an experienced manicurist before you try it out yourself. After all, a girl needs a good manicure that will last through the good and the bad times. If you can't find a professional who can do that for you, consider purchasing fiberglass nails from Amazon.
Final Verdict
---
Considering fiberglass nails are not nearly as strong as acrylic nails and don't last long, you need to decide if they are good for you. If you have a thing for trends, then fiberglass nails made with resin are an excellent way to repair a torn corner of a nail or add a little bit of strength to the tip of a nail.
They are also much thinner and more flexible than acrylic nails, but this can also help them look more natural. It all depends on the kind of look you are going for.
Frequently Asked Questions