A nail drill is an electric-powered rotary tool used for filing nails or removing nail enhancements. To do specific jobs, a nail drill would need "bits". These coated drill tips come in various grits, materials, sizes, and shapes.
We gotta preface this with a very important disclaimer that Nail drills are legit professional tools that aren't safe for an at-home manicure. That's because electric nail files are super powerful—they're not only strong enough to remove acrylics and gels, but also buff hard calluses, and even cut and shape the thickset of nails, so you gotta know what you're doing before you add one to your routine.
Electric Nail Drill For Well Groomed Nails!
If you first work with regular clients and secondly want to make your process a lot easier, you should surely consider trying one.
And since there are, like, a million options on the market right now, we did you a solid by finding the 10 professional nail drills for every situation. Shop 'em all, ahead, and prepare to never hustle on filing your nails back.
Why Do You Need Professional Nail Drills?
The purpose of filing the nail bed is to remove oil and rough the surface up so that the acrylic can properly adhere to the natural nail, for creating an apex and cleaning around the cuticle area and removing hangnails, gently lifting the eponychium—the nail fold at the base of the nail plate—and other delicate cuticle work. After that, cleaning sidewalks' nails and prepping for backfills and safely removing dead skin, and making cuticles and nails clean. Then polishing the nail surface to make the nail smoother. Finally, clean the nail surface and drill bits.
Now let's get a virtual hand on the best 10 professional nail drills!
Best 10 Professional Electric Nail Drills
1. MAYCREATE Professional Salon Electric Nail File Drill Kit
These electric nail drills with 6 Interchangeable Metal Bits drills, designed for grinding, cutting, carving, polishing for nail art, dead skin, thick fungal nails, etc. The speed of the nail drill machine can be adjusted from 2.000 to 18.000 RPM, nails can be quickly and effectively polished and easily removed. Easy to use, regulate speed control and change bits. Designed with automatic overload protection to protect itself from overheating. This mini electric nail cutter manicure is so cute and light, you can take it anywhere with you. Made of high-quality material, low noise, and slight vibration for smooth and long-time operation, perfect for individual and manicure stores.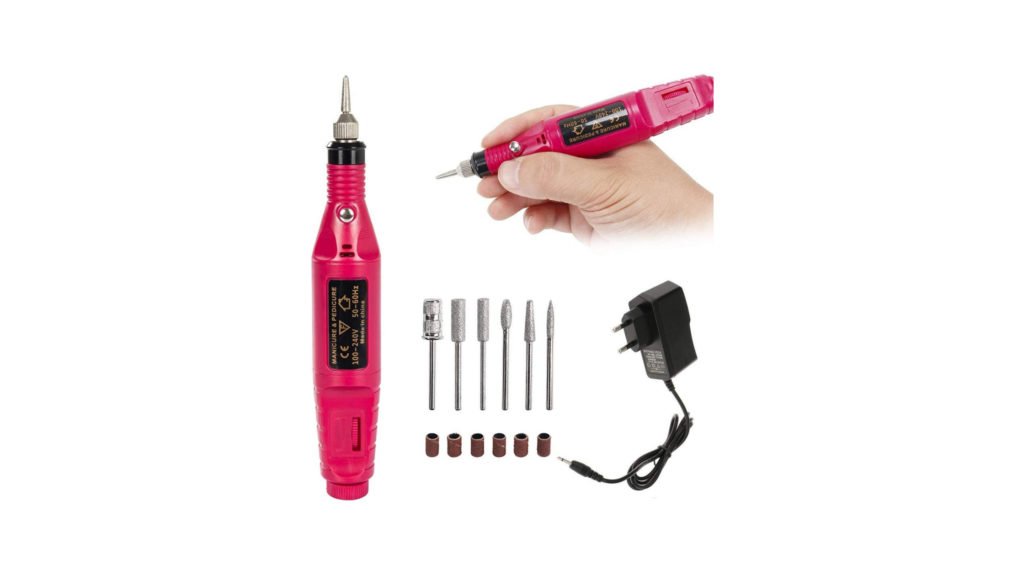 👍Pros
Great for beginners.
Also works with gel and acrylic nails.
Remove calluses and dead skin.
2. FosCadit Nails Decorator Electric Nail Grinder Drill
If you are coming up with a thought of the most portable and budget-friendly drill and will be professional too, then this fits perfectly well to you.
Nail Decorator comes with 5 precision crafted nail heads that sculpt, shape, and polish your nails quickly and safely. It is also gentle enough to massage and stimulate sensitive cuticles.
It boasts high-speed rotations, powerful enough to trim and shape hard acrylics or tough toenails. It is Lightweight and portable, including 5 different heads.
👍Pros
Portable and cheap.
People love it.
Works on multiple speeds can push the cuticles and work great buffering the nails.
👎Cons
The brushes aren't the most durable
3. Verilux Protable Mini Electric File Nail Drill Manicure
Its durable metal exterior is heatproof, keeping it from becoming uncomfortable to hold while you work, and its battery life is admirable given that it's powering an impressive 2.000 to 18.000 RPM motor inside that little handle. The motor is low noise and low vibration, and the rotations are easily speed-adjustable.
👍Pros
Low noise and heat.
Adjustable speed.
6 different metal drills and 56 sanding bands
👎Cons
some users have opinion that the device is less usefriendly
4. OSALADI Nail Polishing Grinder Manicure Drill
All grinding heads are made of premium material. These grinding heads are sturdy enough for your usage. The grinding heads set are nail art tools that are applicable for nail drill machines. Suitable for natural nails as well as artificial nails, great tools for any professional manicurist or beginner. The Colour is Pink. Size: 15. 00X7. 30X4. 20 cm, 5. 89X2. 87X1. 65inch. It Includes a hanging rack, charging cable, machine, grinder, manual, and manicure heads
👍Pros
Remove the hard gel nail, creating less dust with little friction and heat.
Premium material, with high wear resistance, high-impact resistance, high-temperature resistance.
Wide application range, suitable for all and pen-type nail polishers.
5. Makartt Nail Drill Electric Nail File Machine
This design features a motor that is quiet, vibration-free, and high torque but without causing so much movement in the drill that you can't still get a high level of precision. The unit holding the motor is designed with a ventilation system that reduces heat and long-use impact on both the motor and the handheld itself.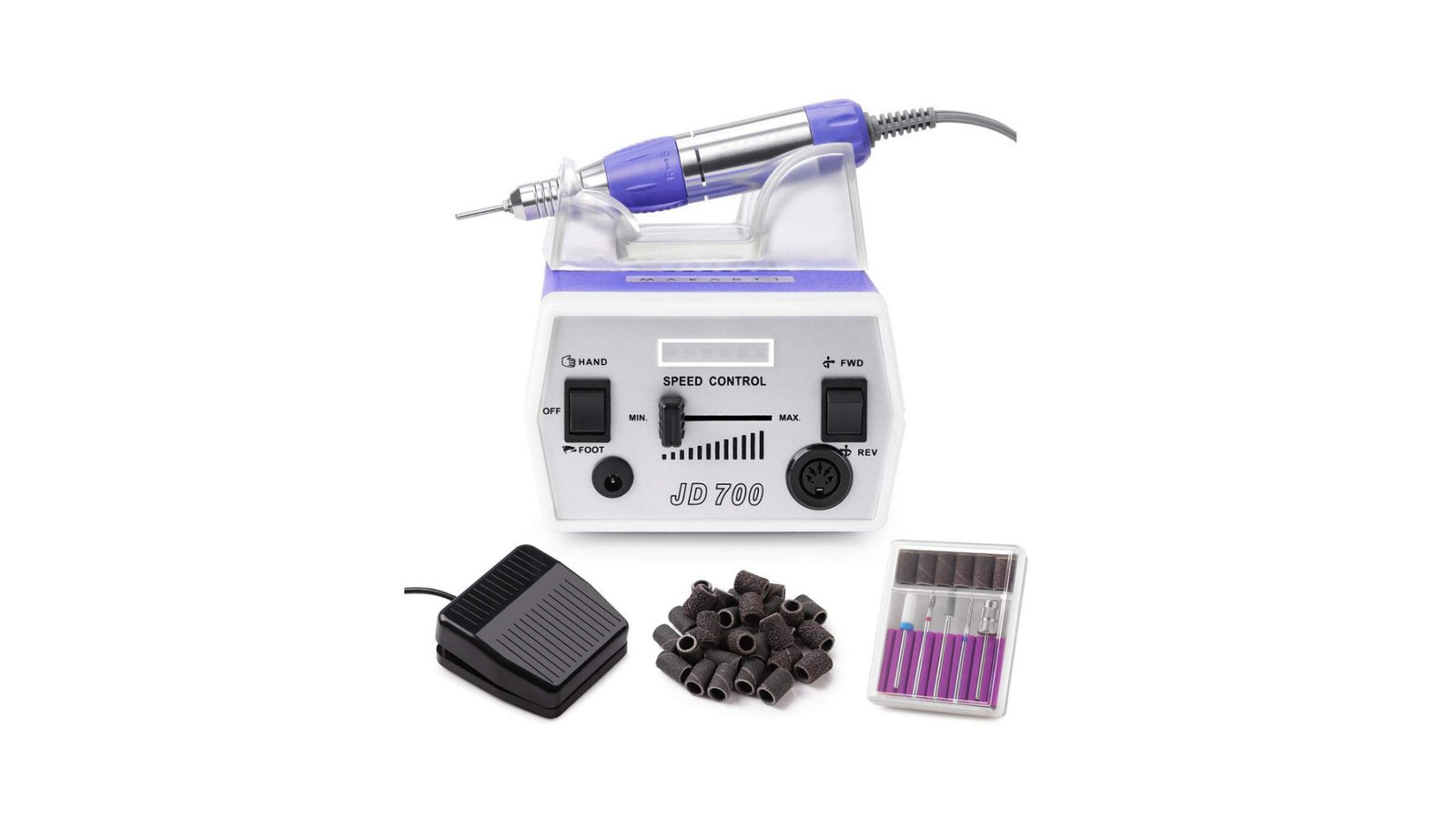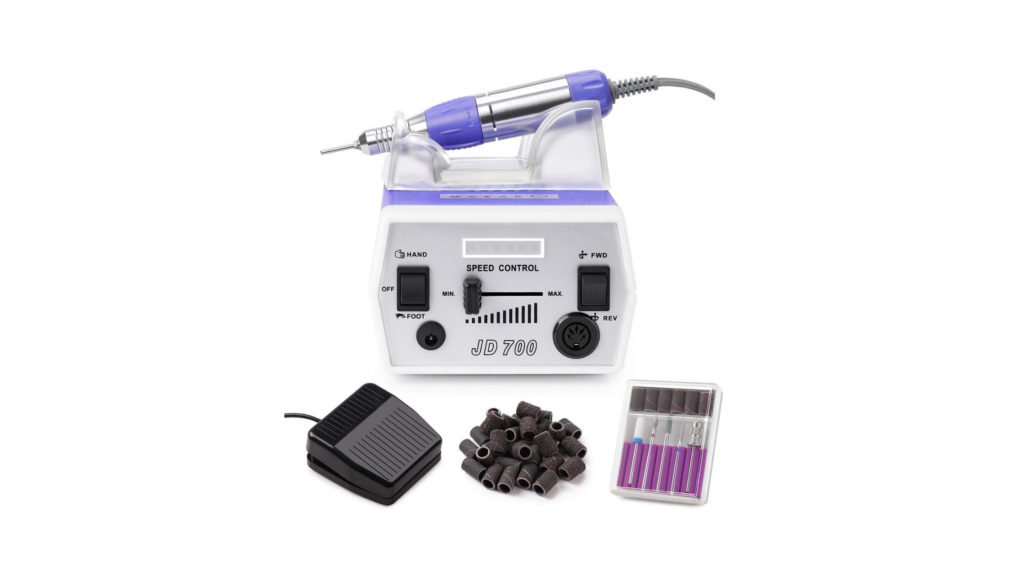 Additionally, the drill base lets you adjust speed, rotation direction, and whether you want to control the level of impact using a mode switch that swaps from typical settings for hands or feet or a foot pedal for more real-time control. The pack even comes with four of the most commonly used drill tips in their little plastic case.
👍Pros
This is a professional device with the 0-3000 RPM motor
The drill is quiet and vibration-free.
Comes with tons of files for multiple jobs.
👎Cons
Some users find it confusing to use the foot pedal
6. Subay Professional xElectric Nail Drill
This machine's speed is entirely adjustable and easy to control in real-time, it's impressive that the motor packs a power of 20,000 RPM. Because it sits in the unit and is not right in the handheld piece, however, you get a much less shaky and more precise experience, the rotator vibrates far less than the motor itself. Both parts of the system are benefitted from systems that protect it against overheating, and each color or bundle that you choose also offers you a small stock of sanding bands.
👍Pros
Features lots of drills to use for different jobs.
Low noise and low vibration.
👎Cons
Speed adjustment doesn't always work.
7. Fancii Professional Electric Manicure & Pedicure Nail File Set
These 5 interchangeable heads allow you to effortlessly fill, buff, shine and shape your nails just like at the salon in-home and professional use on both natural and acrylic nails. Battery operated with 2 AAA batteries. The new and improved motor is quiet but powerful. Ergonomic design ensures comfort, for use on both fingernails and toenails. Also, UV dryer accelerates nail polish drying time. No more waving your hands around in the air.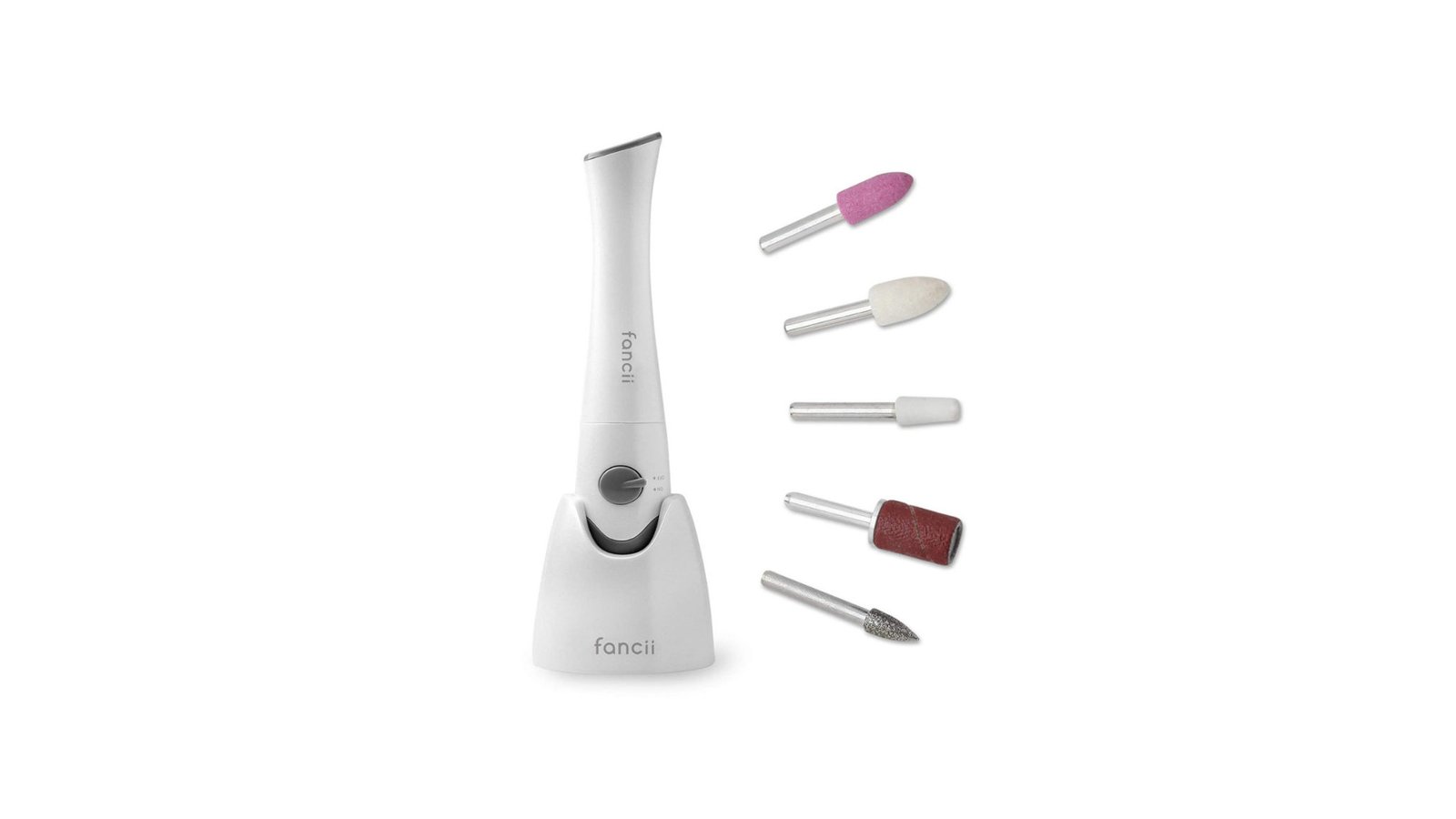 👍Pros
Cordless design with easy operation
Built-in UV dryer
👎Cons
The 2 AAA batteries are not included
8. Aevo Electric Nail Drill Kit
Electric nail drill kit with everything you need to start prepping, polishing, cutting, carving nails, and cuticle removal. Perfect for acrylic and natural nails. Upgraded USB interface lets you plug your professional nail file into any USB port, power bank, laptop, or AC adapter. Adjustable speed controls let you treat nails at 0-20,000 RPM, forward and reverse toggles let you work ambidextrously. The cool and quiet design makes this acrylic nail drill great for home and salon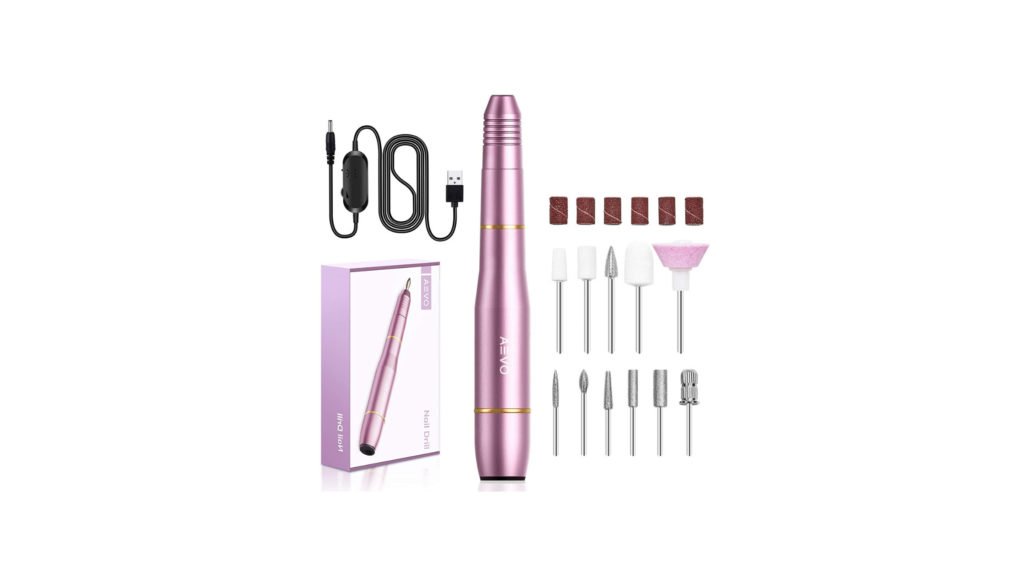 👍Pros
Low Noise, Low Vibration
Efficient Heat Dissipation
Compact & Lightweight
👎Cons
It is a little too weak for acrylic
9. Finishing Touch Flawless Salon Nails Kit Electronic Nail Drill
This at-home manicure and pedicure nail kit include 6 attachment heads that: buff, shine, shape, and file. Rechargeable and cordless: this unit has forward and reverses settings, low and high-power modes, as well as an LED light to illuminate the nail. Designed with precision control which allows for easy use around your nails. Just like at your favourite salon. Have a safe and hygienic manicure in the safety of your own home. But can be the best professional use while you learn, learn, and in the learning process.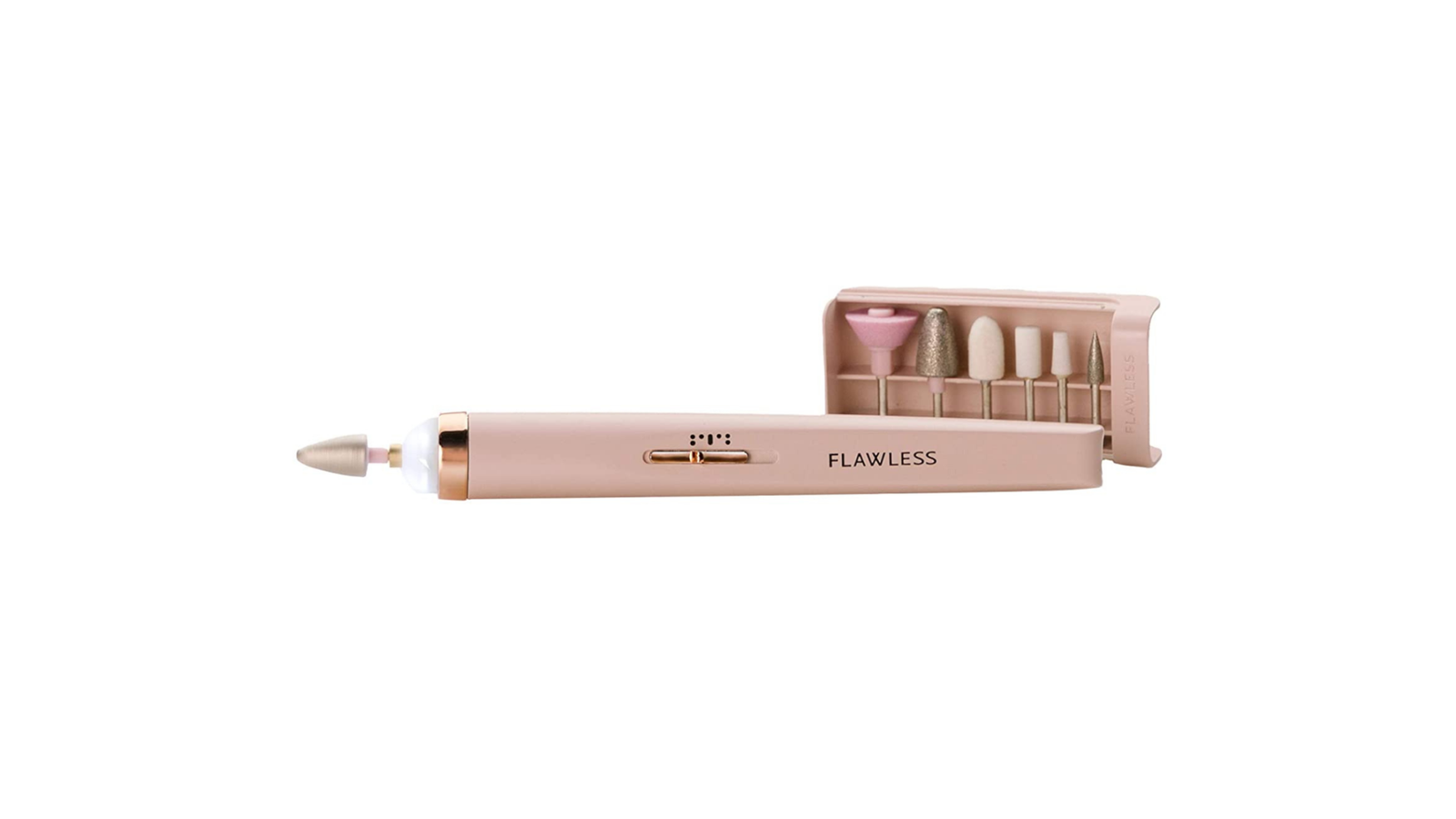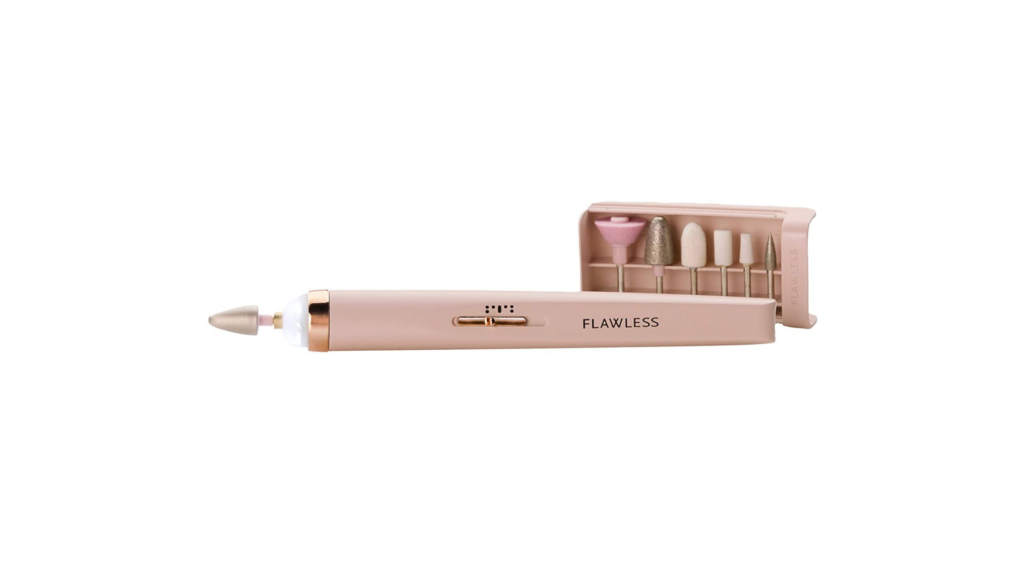 👍Pros
Remove Gel Residue
Buff & Shine
Rechargeable
10. HASTHIP Electric Nail Drill
This is the editor's choice: the electric nail with 11 drills, 6 nylon wheels, For shortening, filing, shaping and polishing the nails and for removing cornea, cuticle as well as calluses and corns. Adjustable speed and rotation, The electric nail cutter with an adjustable speed control from 0 to 20,000 rpm, our grinding head have a super locking force. This mini electric nail cutter manicure is so cute and light, you can take it anywhere with you, just put it in your handbag, luggage, and so on. It's a professional polishing tool.
👍Pros
Awesome product, easy to use
Perfect for gel polish nail extension
👎Cons
Plug sometime not working
How To Choose Electric Nail Drill?
A drill is a great investment for professional nail technicians, and even if you have no experience using it, with a little practice and patience, you can be a pro in no time. Nail drill is nail technicians' best buddy. It is a manicuring device that is made with a handpiece and replaceable bits. While buying a good drill, we should notice-
Be multi-purposeful
Power
Speed
Low vibration
Low Heat
Warranty
Final Verdict
These were some intricating details before you choose THE ONE for yourself of the best nail drill for home use that you can buy to do manicures just like professionals for special occasions or just to pamper yourself. With the right tools and techniques, you can undoubtedly give yourself a striking manicure and pedicure, while saving your money and precious time. I hope our Best 10 professional nail drill guide has helped you find equipment that will work best for you and perfect your nail game.
Electric Nail Drill – FAQs