Many trendy nail shapes out there, it's challenging to know which ones look best. Different nail shapes change the look of your hands, but the nail shape you go with depends mostly on your preference and personality. Are you really want to win your next nail look. Then let's talk about the trendy and best coffin shape nail designs.
They are also known as ballerina nails that look like a coffin that was made famous by celebrities like Kim Kardashian and Rihanna.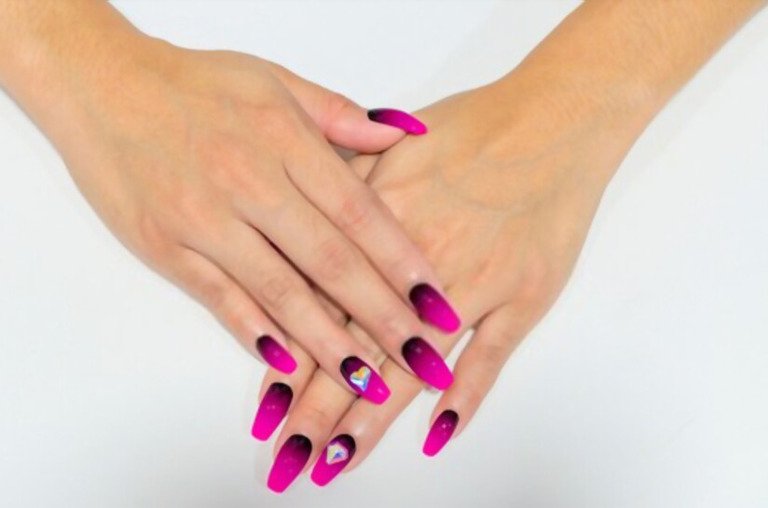 Coffin nails are bold and fashionable and they're popular amongst stylish ladies, including celebs. So here are the best coffin shape nail ideas to try now. Read this complete article to learn about the shape, the styles, and how to care for them?
What Are Coffin Nails?
Coffin nails, also known as ballerina's nails, have started with A-listers like Rihanna and Kim Kardashian. These types of nails have angled sides and a squared-off tip to create the coffin shape. But now it has quickly overtaken the nail world and the popular nail shape worn by countless celebrities.
It is possible to shape cute coffin shape nails, but you will need to grow them fairly long. Don't felt bad if your nails are short because you can still have a coffin manicure, but you will need acrylic to build the length. If you like to have natural coffin nails, then leave your nail to grow longer than usual.
Different Coffin Shape Nail Designs
Once you're done with the shape, it's time to select a design to complement it. Here are the best coffin shape nail ideas to try now.
Short Coffin Nails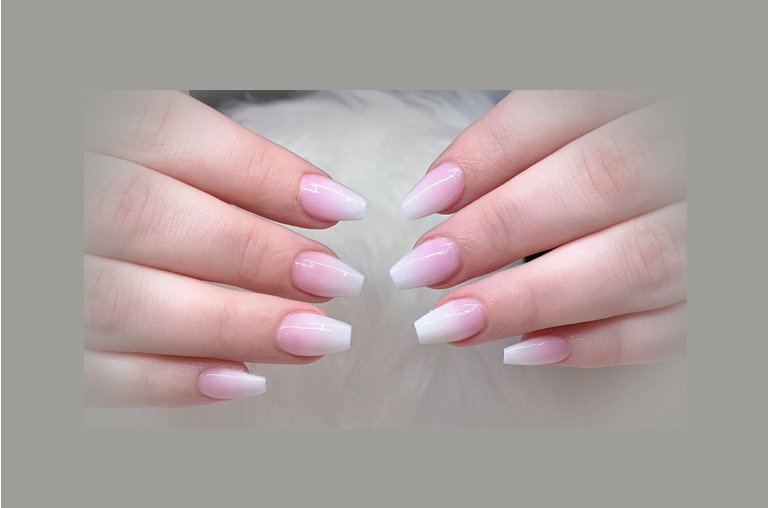 Coffin nails can be either short or long, but medium-length nails are totally manageable. Extend a little past your fingertips to create the tapered shape properly and to rock this stylish trend.
In this style, the ends are squared off after the sides have been tapered.
Long Coffin Nails
Long coffin nails are bold and stylish, you can even try this design at home or the salon. They are the most stunning option, all you need to do is start by filing the sides of your nails to a center point.
When the sides are filed, simply square off the point and you're ready to rock this chic trend.
White Coffin Nails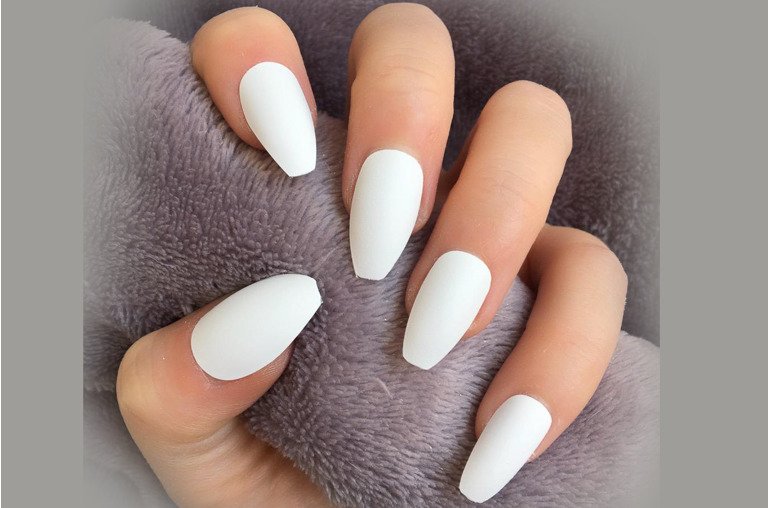 White coffin nails for a simple and flawless look, which can be a striking color, especially when paired with coffin nails.
Make sure to give a shiny finish for a classically luxurious look or a matte finish for a contemporary and cool appearance. And moreover, this color enhances the coffin shape without distracting from its design.
Nude Coffin Nails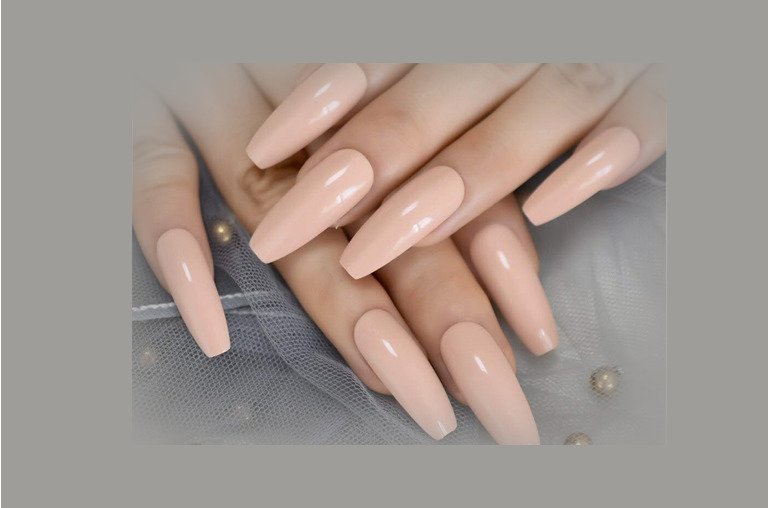 Nude coffin nails are one of the most attractive nail trends that gives a whole new life with nude coffin nails.
This is yet utterly stylish, and a fantastic option for office days and formal functions.
Coffin Shaped Acrylic Nails
If you're worried about your ability to naturally grow your nails, then it is better to try Coffin-shape nail designs of acrylic nails. If you want long or short coffin acrylic nails, go for the classic look.
3D Coffin Nails
3D Coffin Nails is the boldest of the bold that provides you with an added depth and sense of flair to perfectly represent your individuality.
These 3D designs add an extra dimension to your nails and are seriously eye-catching. You can adorn your nails with cute rhinestones and decorative petals.
Matte Coffin Nails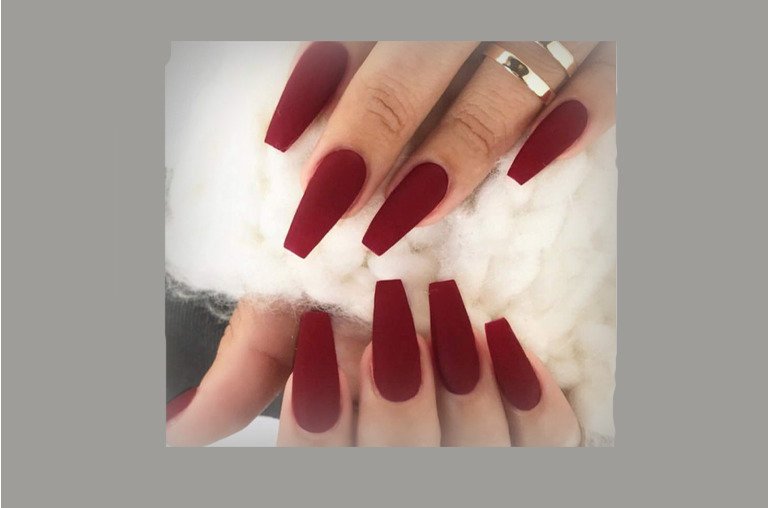 If you want a modern and on-trend look for your nails, then these cool Matte Coffin Nails take on a classic is easy to accomplish. But make sure to choose a bold nail color like navy, black, or crimson that makes the best choice for evening events. Then apply a matte topcoat over the polish after it dries.
Transparent Coffin Nail Design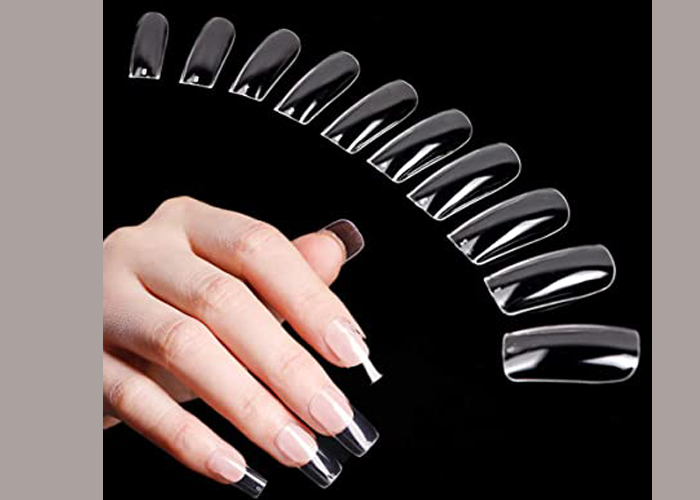 Transparent coffin nail designs are super simple to achieve that gives you an eye-catching nail.
But before you cover your entire nails in polish, consider opting for a stylishly transparent design, but to create such a look, just apply striping tape to your nails before painting them.
Cute Coffin Shape Nails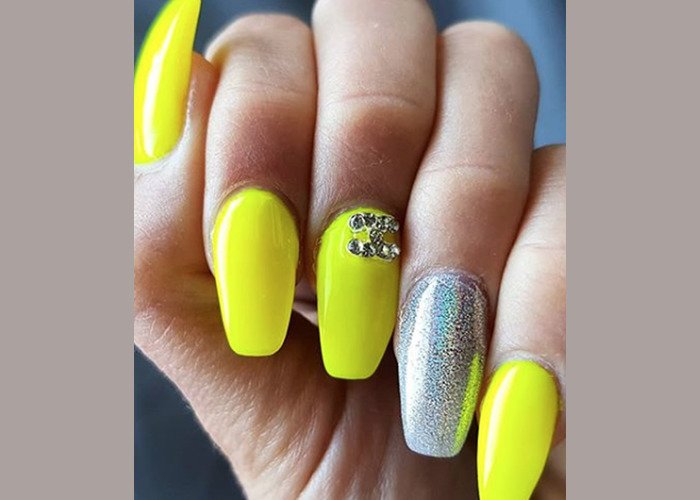 Cute Coffin Shape Nail designs is a new traditional option that is simple and plays with negative space, striping tape, and glitter accents. One of the great things about this design is that you can choose any color or design you prefer. For a classic cute color style, go with ballet pink or light teal and for feeling fierce and edgy, choose a burnt orange hue or a deep red.
Color Shaped Accent Nails
Accent nails are an excellent option to add a pop of color or a sense of intrigue. For simple accent nails, try one nail color a glitter polish, and a contrasting color to the rest of your fingers.
Black Coffin Nails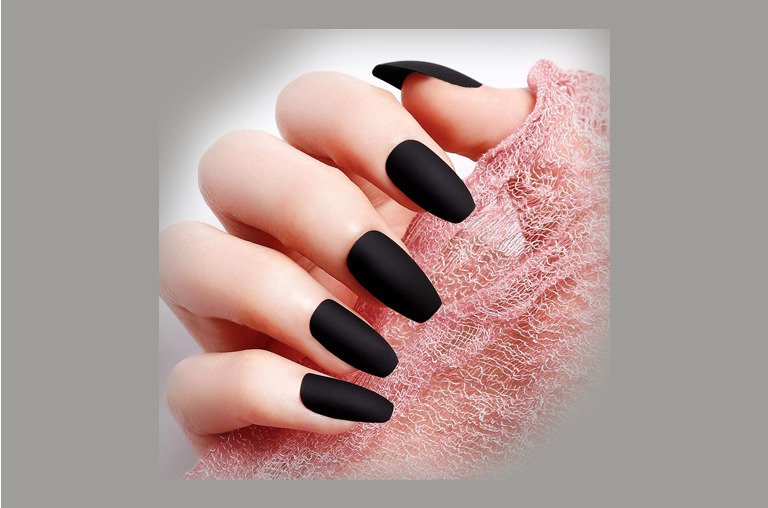 Black coffin nails are a classic choice for those who like a bold and edgy appearance. This design will become one of your favorites if you pair perfectly with metallic details.
Also, it looks great with both matte and shiny finishes.
Red Coffin Nails
If you like to bring a splash of elegance to your nail design, then red coffin nails are an effortless option. They are not only dramatic and sexy, but they're also sure to attract plenty of admirers.
If bright colors aren't your style or choice, then consider matte red coffin nail designs.
Pink Coffin Nails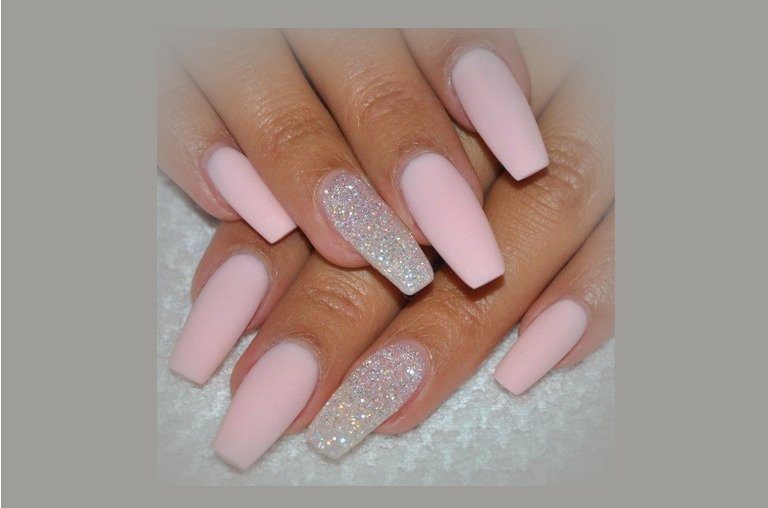 Pink Coffin Nails embrace a beautiful yet stylish nail choice. that can often appear strong and edgy. Choose a light shade of pink which is a great option and appears perfectly pretty on fingertips.
Or if you want to turn up the vibrancy, choose a brighter hue.
French Tip Coffin Nails
French tip coffin nails is a traditional nail design that appears feminine and sophisticated. To achieve this effect, just extend the white tip down further and apply white polish to this section.
Blue Coffin Nails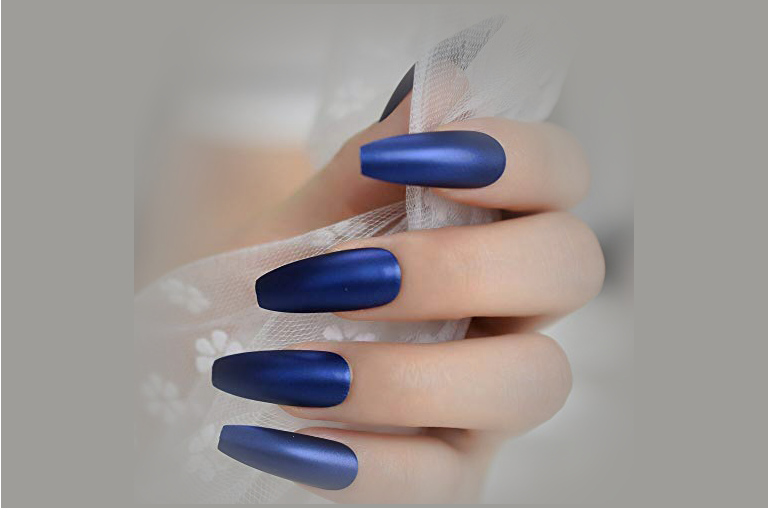 Blue coffin nails are perfect for a versatile look. They are an amazing way to incorporate a sense of style into your nail design.
so choose a bright blue hue for the look in summer and to rock the look in winter, select a deeper shade, such as cobalt or midnight blue.
Clear Coffin Nails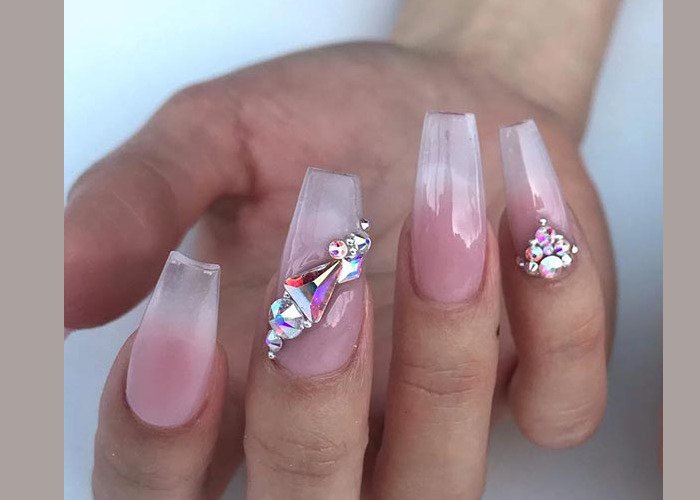 If you want to combine several elements into one overall look, then Clean coffin nail designs are essential.
Grey Coffin Nails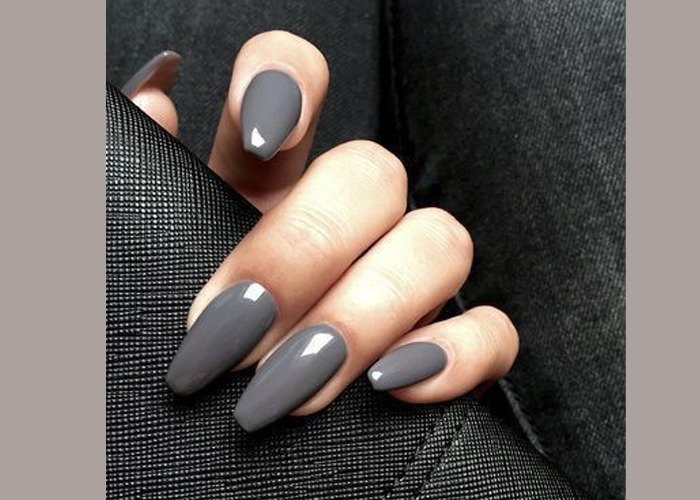 Grey coffin shape nail designs are extremely stylish and trendy, the color may range from dark grey to lighter hues. This style can suit any personality or profession.
Natural Coffin Nails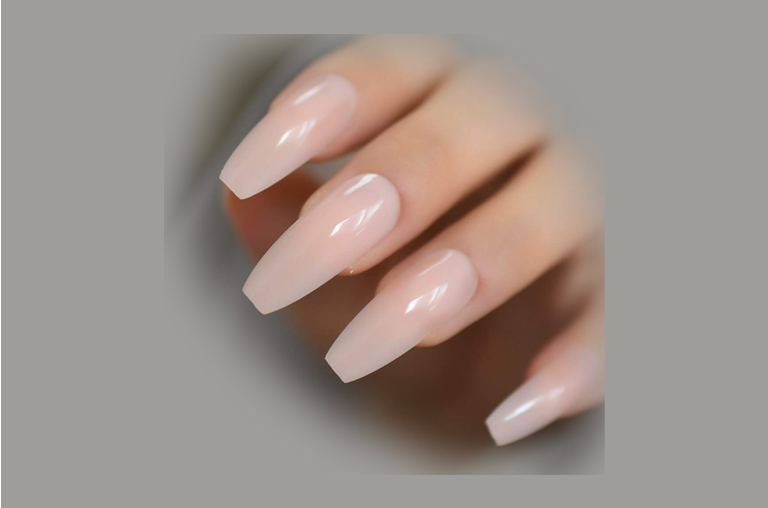 Natural coffin nails are a simple look that you can wear every day, and even it can also suit a variety of outfits and garments.
This means you won't need to worry about your clothes clashing with your nails.
How To Do Coffin Shape Nail Designs?
You can do coffin shape nail designs at home, all you need to follow are a few basic steps:
Firstly, grab a pair of nail clippers or nail scissors and cut your nails along the side to create a narrow effect.
Next, take a nail file and file the sides of your nails until they taper into a point at the tip.
Now the sides of your nail are smoothed, file off the tip of your nail into a square shape.
Choose a color, then decide whether you want a matte or shine finish.
Final Verdict
Some nail styles convey confidence and they may be dear to our hearts. So trying out a new nail shape can be a confidence game-changer or breathes new life into your wardrobe and in the way you hold yourself. The coffin shape fills the nail into a tapered point and more neutral colors tend to fit the vibe of the coffin nails a bit better than bright pastels and crazy vibrant patterns.
Because of their length and their flat tips, they are actually quite prone to breakage. So it is important to get it done at a professional nail salon using acrylics. Get familiar with these coffin shape nail designs shapes and styles of these cool nails to express your creativity.