Do you like getting your nails done daily? Every girl loves to keep their nails party-ready. Whether you perform manicures as a hobby or for a career, there is one item that you will always need: a nail lamp.
10 Best Professional Led Nail Lamps
Instead of dealing with the inevitable chipping and limited shelf life of nail paint, setting with gel polish and a nail lamp allows you to enjoy salon-quality nails for much longer.
Remember that your hands will be exposed to UV radiation, so use sunscreen and protect your skin beforehand. Check out the best professional UV-led nail lamp.
Why Do You Need a Led Nail Lamp?
A nail lamp is an essential component for manicure lovers. Below are some of the benefits offered by LED Nail lamps:
Less Drying Time
Natural nail drying may take around 30 minutes to 1 hour. However, using nail dryers may significantly reduce this. It takes less than 6 minutes for an ordinary LED nail lamp to fully dry nails.
Good For Professionals
If you work as a cosmetics artist, the LED lamps for nails are a must-have in your business. This may assist you in boosting your income and you will be able to provide an excellent customer experience.
Good for Shellac Nails
LED lamps for nails can rapidly dry multi-layers of lacquer or thick coats of polish, such as shellac nails. The polish coats will solidify in a matter of seconds.
Differences between a UV Lamp and a LED Lamp
UV Lamp
UV lamp is a bit heavier than the LED nail lamps.
It has been in use for around 10,000 hours (bulbs are replaced every 2 or 4 months depending on the amount of use)
Emits a broader spectrum of wavelengths.
LED Lamp
LED Nail Lamps are lighter in weight, with a life expectancy of up to 50,000 hours.
It emits a narrower and more targeted number of wavelengths.
Not all gel polishes are cured by LED nail lamps.
LED nail lamps dries nail polishes faster than a UV lamp
Easkep UV LED Curing Lamp
The Easkep UV LED Curing Lamp promises to cure gel nails twice as quickly as other manicure lamps. The lamp has a dual light source with wavelengths of 365 nm and 405 nm. The light can also cure LED gels, nail builder gels, and rhinestone gems glue in addition to gel nails.
The curing lamp's diamond-shaped and spherical form assists in minimizing light leaking while also speeding up the drying process. It also shields your hands and eyes from any potential harm from extended exposure to the light.
Pros
✅ Prevents light leakage
✅ The maximum speed of drying
✅ Prevents darkening of the skin
✅ Protection against extreme temperatures
✅ There is an LCD screen.
✅ Lightweight
Whitney Nail Dryer
Two hands or feet may use the Whitney Nail Dryer at the same time. The UV lamps for nails come with a big LCD screen that makes it simple to check the drying time. The dryer makes it possible to cure your nails safely and comfortably.
The nail dryer also includes an automated sensing function, which makes it more user-friendly and convenient. It is capable of curing all kinds of gel and is perfect for use at home or in the salon. There are four timer options on the nail dryer: 10s, the 30s, 60s, and 90s.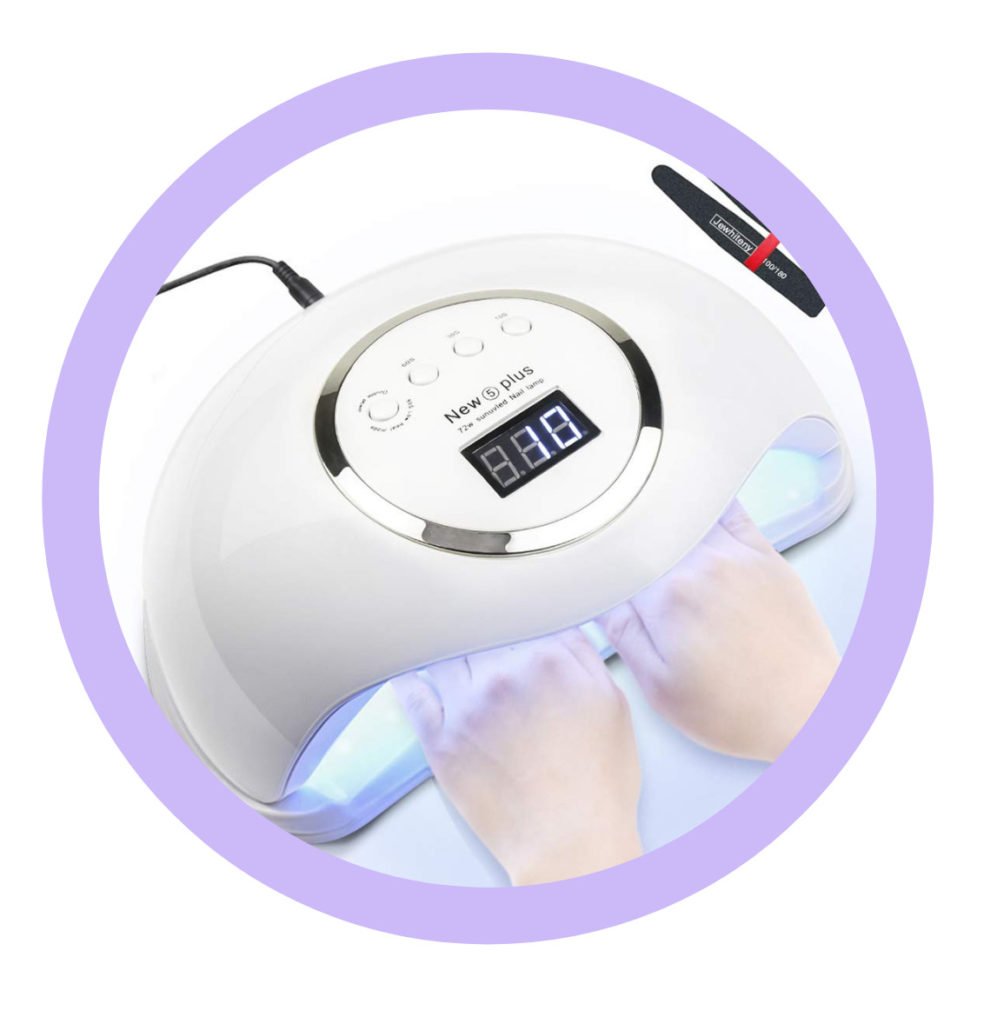 Pros
✅ Lightweight
✅ Ideal for both home and salon use
✅ Automatic sensor included
✅ Durable
Cons
❌ Cures gel polish only
LKE Nail Dryer
The LKE Nail Dryer is a small and portable gadget. It features an easy-to-use design that protects your eyes and prevents the darkening of your skin. The nail dryer is small and lightweight, making it simple to carry. It has an automated sensor that enables it to be switched on or off without the need to touch any buttons.
There are three timer options on the dryer: 30s, 60s, and 90s. It is small, light, and simple to clean and use.
Pros
✅ Prevents darkening of the skin
✅ Lightweight
✅ Compact
✅ Automatic sensor included
Melodysusie Nail Light
The Melodysusie Nail Light is a lightweight, ergonomically built portable nail lamp. The nail light uses low heat to cure your nail paints. The light uses less power, features a one-button design and a built-in timer, making it simple to operate.
Pros
✅ Lightweight
✅ Electricity is conserved
✅ Easy to use design
Cons
❌ Cures gel polish only
Sunrich UV Gel Nail Lamp
The Sunrich UV Gel Nail Lamp makes use of the innovative LED double light source bulb technology. This technique aids in curing all types of nail gels. With a reduced wattage, the light cures all nail paints quicker. There are four distinct kinds of drying choices available with the light.
It also has a big LCD screen to observe the time taken for the curing process. The light is controlled by an automated sensor, which turns it on and off without any controls. The lamp has a heat dissipation hole to prevent it from being overheated.
Pros
✅ Automatic sensors
✅ Faster Actions
✅ Prevents Overheating
✅ All kinds of nail gels are compatible.
SUV Nail Dryer
The SUV Nail Dryer is a lightweight gadget that is perfect for newbies and junior manicurists. The nail dryer has a UV and LED dual light that speeds up the drying process and cures gel nail polish in only 60 seconds.
The SUV nail dryer has an automated sensor in it that makes them simple to use. Because of its ergonomic design, it can treat 5 fingernails or toenails at once.
Pros
✅ Lightweight
✅ Faster Action
✅ Cleaning is a breeze
Anself Gel Nail Lamp
An auto hand infrared sensor is included with the Anself Gel Nail Lamp. When you place your hand within the light, the lamp will automatically switch on. It has an LCD so you can keep track of the curing time and battery capacity. Any gel nail polish may be cured with UV light. The lamp contains 32 long-lasting LED light beads and may be used for up to 50,000 hours.
It has four different timer settings: 15s, the 30s, 45s, and 60s.
Pros
✅ Lightweight
✅ Durable
✅ Cleaning is a breeze
✅ Long life expectancy
✅ It goes with any gel nail polish
Cons
❌ Do not auto-sense your hand
MiroPure Nail Lamp
The MiroPure Nail Light comprises 33 long-lasting LED beads that give the lamp a 50,000-hour lifespan. It comes with four different timings to select from and has an auto sensor that enables the light to turn on when your hands are placed within. The lamp is ergonomically designed, with space for both hands and feet.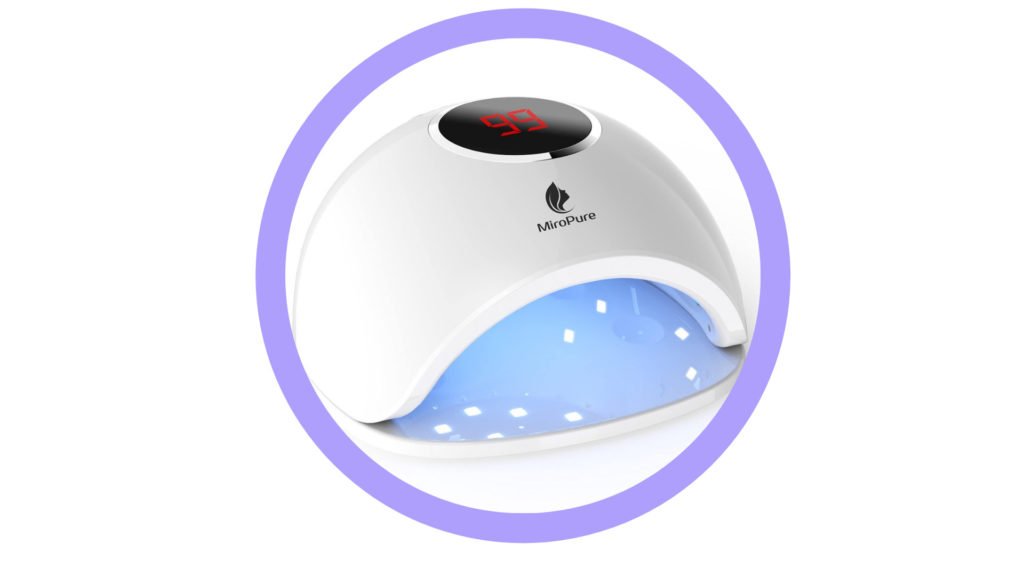 Pros
✅ Easy to clean
✅ Quick action
✅ Auto-detect
✅ Both hands or both feet may be accommodated.
✅ Lightweight
Diazo Portable Nail Dryer
When you place your hands in the Diozo Portable Nail Dryer, an auto sensor activates the light, allowing it to begin operating immediately. You can cure your nails using one of the three-time options provided by the light.
It also includes an option that switches the gadget to low-power mode if it becomes too hot. The lamp's dual light source makes it perfect for curing gel nail paints of all types. It is also transportable.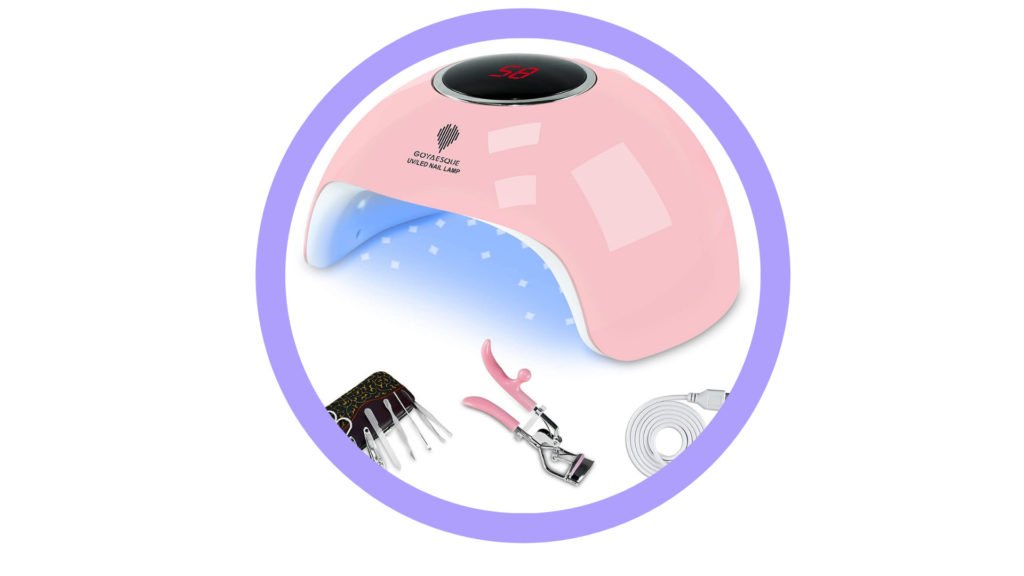 Pros
✅ Cures all kinds of gel nail polishes
✅ Lightweight
✅ Auto-detect
✅ Overheat protection
Best Professional Led Nail Lamp -Conclusion
The lamp's safety and lifespan are two critical factors to consider while buying one. Avoid using lights that cause your skin to darken over time. Choose one with a long lifetime to ensure that your investment pays off.
Whether you want a small nail light or a salon-quality one, the above given are the 10 best professional LED nail lamps of 2021. Choose the best one according to your requirements.
Best Professional Led Nail Lamp – FAQ